Want to have the word of God installed in your phone, tablet or ipad? Look no further. Here you will get a download link of the best bible applications with different bible versions, dictionaries, commentaries and spiritual books.
As the bible say in the book of John 3:19(b)," …and men loved darkness rather than light, because their deeds were evil", It is not easy to find sites to download the bible unlike other earthly contents which are readily available for anyone to download anytime. If you have tried to search for bible downloads in Google you can prove me right because many sites just take you round wasting your time and finally you end up not getting a download link. There are other sites that provide a bible download link and when you download it you find that it is not a bible but software calling itself a downloader.
When it comes to bible apps for android devices such as smart phones, ipads and tablets its even worse. Many sites take you to a site called Google play where it is impossible to download any application unless you sign up and register your device.
Because I wanted to have a bible with many versions installed on my tablet, I had to do an intensive search online and offline which took me almost a month to complete.  
During this time, I had downloaded many bible apps which did not meet my requirements. This is because most of them were an online bible which means that you must have internet connection to access them. Other apps had only one version e.g. Niv.apk and KJV and have no commentaries or dictionaries, while other applications were named bible and they were not.
At last when I was about to give up, I landed to a site which I must say it is unique. I say unique because it is established upon the word. Their main goal is to spread the word and reach as many people as possible with the gospel. They have free bible apps for every device.  Again, their applications are offline apps. Once installed on your device they don't require internet connection to run. The applications consist of more than 40 different versions, bible dictionaries, Hebrew and Greek lexicon, concordance, topics etc.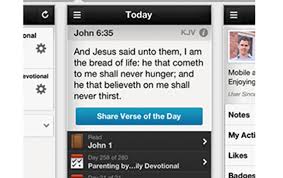 What I liked most about this site is the download links. It does not take you to another page to download. When you click on the module or the version you want to download, the download starts immediately. So it is possible to download on a PC and transfer it to a memory card or flash disk to install it to your phone, tablet or ipad.
As stated above, it's free and legal to download these bible apps from that site. But in order to help me maintain my site, please donate only $5 through the below PayPal button and after donating you will automatically be redirected to that site.

---
Permissions in this forum:
You
cannot
reply to topics in this forum